Praying Friends of the Bridegroom believe:
"There is one body and one Spirit, just as also you were called in one hope of your calling; one Lord, one faith, one baptism, one God and Father of all who is over all and through all and in all. But to each one of us grace was given according to the measure of Christ's gift." (Ephesians 4:4-7)
The Holy Bible is the inspired Word of God. (2 Peter 1:20-21)
Man without Christ is a sinner condemned to eternal hell. Man with Christ is born into the kingdom of God. Salvation is given to man by God's grace and man receives it by faith. (Romans 3:23, 6:23, John 10:28)
Man was created to love the Lord and to worship Him. God is seeking true worshippers. Man must worship God in spirit and in truth. (Deuteronomy 6:5, John 4:23-24, 1 Peter 2:9)
The Holy Spirit bestows the spiritual gifts to believers as He desires. The gifts and offices of the church listed in the Scriptures are still in operation today. (Romans 12:1-8, 1 Corinthians 12-14)
Walking By Faith // God's Paper Clip Analogy
God has given us an amazingly yet simple example of the tribes, people groups and nations for whom we are to pray.
On the CCC ministry trip in the fall of 2015 we had prayer time at the Wailing Wall or Western Wall of the temple in Jerusalem, When God began PF in 1999 -2000 His message was that more people were not in fellowship with Him or praying (communing with Him). In fact most people at the ends of the earth did not even know about Him. So this time as I prayed at the Western Wall God spoke to my heart that He was comforted with the prayer going forth and wanted all of the intercessors to be encouraged that He was hearing and answering their prayers. He wanted each intercessor to feel hugged by Him. Now He wanted us to pray for more tribes, people groups, and nations. That message was pretty earth shaking to me. After we returned home, I kept asking God to show us how He wanted PF to do this as I meditated on verses that are in the Vision of the Ministry and Goals below.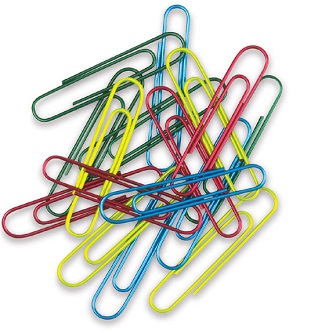 In a surprising way God answered. For years I have been going to banks to do business for PF. Along the way, it seemed most of the time, I lost my paper clip between the PF office and the bank. At the bank I would ask if they could give me one paper clip so I would not lose my deposit ticket on the way home. Then many bank tellers kindly asked if I would like some paper clips. Of course, I have answered affirmatively. Then I could give the bookkeeper the papers that were clipped together and she was thankful! We have been grateful for the paper clips and used some for PF and given some to various partners in third world nations that needed them.
So in the midst of meditating I felt led to clean out a shelf in the PF office where various people had organized materials. On one shelf I found many envelopes stuffed with paper clips. I started pouring out paper clips and realized there were 100's if not 1000's of them. I knew God was trying to tell me something but I had no idea what. Then I wanted others to see all of these paper clips and filled 12 soup bowls on our dining room table (around which PF meets)!
Then the message became clear…the paper clips symbolized the ones we pray for at the ends of the earth. Even though we do not know all of these children and adults God does. As we join God in prayer or by going or giving, He moves in hearts of people. As each person is touched by God, then they touch someone else.
We invite people to take the paper clips to remember to pray for those who have never heard the gospel. Many people try to pick up one or just a few paper clips from the bowls and instead realize many paper clips are attached to each other.
Included with this report are paper clips for you to put in your pocket or bag as a reminder to pray for those at the ends of the earth, that they too may come to know Jesus Christ as Lord and Savior.
Give God the Glory!
M. J. Arant