Page 1 of 2
Fall Letter 2016
Dear Praying Friends,
We thank God for Who He is and for you! Your prayers for Praying Friends and around the world avail much.
And the prayer of faith will save the sick, and the Lord will raise him up. And if he has committed sins, he will be forgiven. Confess your trespasses to one another, and pray for one another, that you may be healed. The effective, fervent prayer of a righteous man avails much. - James 5:15-16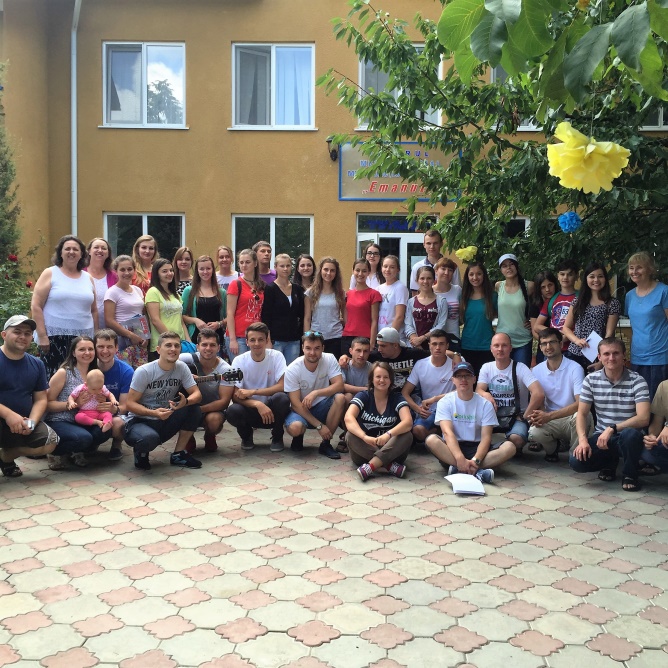 We hope you will be encouraged as you read what God is doing. We rejoice in our Great God and that He wants everyone on earth to know Him and His love!
We have seen God move in very specific ways as we traveled to Moldova and Nicaragua recently. We renewed friendships and were able to make new friends. We want to give you a snapshot of what God has been doing as he took us to these nations. Whether the people we met were monetarily rich or poor, they poured out God's love on us and we hope we reciprocated. We saw the joy in their lives as they were facing hard times, yet they were depending upon the Lord to help them and sharing what they had with others as a way of life.
Moldova Service Trip August 2016
Personally:
- Moldova - In August 2016, Tanea and I traveled to Moldova on 2 different days so she could spend time with her family. On my trip God sent a shepherdess to help me get through the Paris airport (when I did not know the way to go) and then spoke Romanian to help me in the Bucharest airport. God also gave us a boarding pass for every plane even though we did not have one for some of the 'legs' of the journey.
Tanea and her family were reunited. The G. family siblings helped Mr. and Mrs. G get things ready for winter at their home. They were glad to minister to people as God put them in their paths. PTL!
We saw God producing much fruit among the brothers and sisters wherever we went!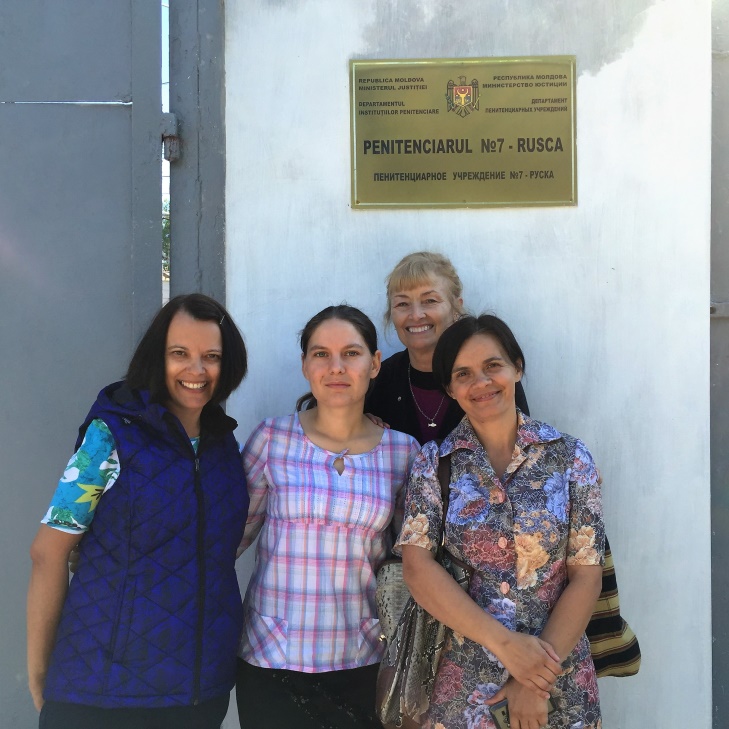 God opened the way for us to visit a women's prison

when we were not scheduled to be there and blessed us with His presence. We will tell you more about this in another letter.
Our prayer walking team visited with believers and went to several homes. At one home Andres was in a sad state as he had gotten drunk last winter, fallen in the snow, and awakened to find his feet frozen - so the doctor had amputated his feet. He was living in awful circumstances. Our team doctors changed his bandages and talked with him about how God had spared his life because He loved Andres and still had good plans for him. Then the doctors invited us to share. We asked him what he thought of Jesus and he said, "I love Him and if I saw him today I would hug Him." Well, that response blessed us! We prayed for him and shared the Way of Salvation! He said he accepted Jesus. When asked by the pastor's wife if he wanted to attend church, he said yes and he wanted the church van to pick him up and take him to be with repenters/believers. God was moving!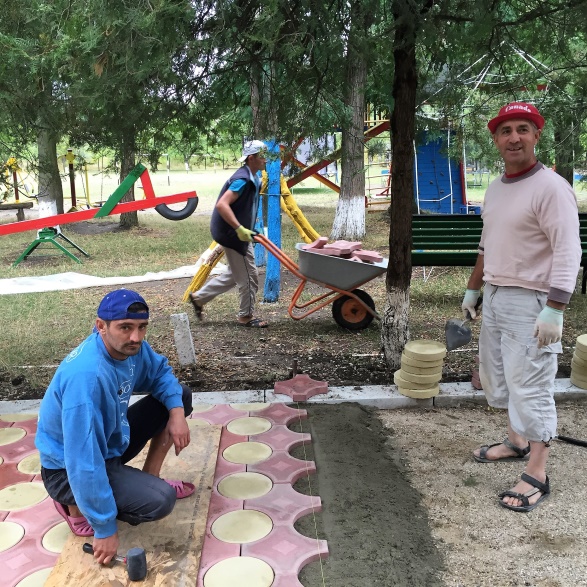 At El Shadai camp we saw great changes since we were there a couple of years ago. They continue to enhance and build the camp.

We were humbled to participate in a family camp for seekers and the National Prayer Conference. How gracious the Lord is to us to let us be with some of His favorite sons and daughters!
We were blessed to get to know and share with women at a conference in Singerei. The message for all of us was 'Seeing God move Through Prayer Around the World'. We had a great lunch and gave out bookmarks with the Word of God.

We also had a special time visiting the churches and families there and were blessed to stay with our family there.

Status of our Brothers and Sisters

: Around Moldova we heard how many believers but are strong in faith but 'the poor' in Moldova because they do not lie or do illegal things. These believers work very hard to have food and necessities for their families. Helen and Vasile and Nadeja told us how they work with groups that share the gospel. They go to various villages to do outreaches and help the orphans and disabled, and visit prisons. In some of the villages in the winter with snow on the ground they find many of children and adults do not have warm clothes and have socks but no shoes. She said when believers find these children and adults in so much need they leave the people with their own shoes and outer clothes.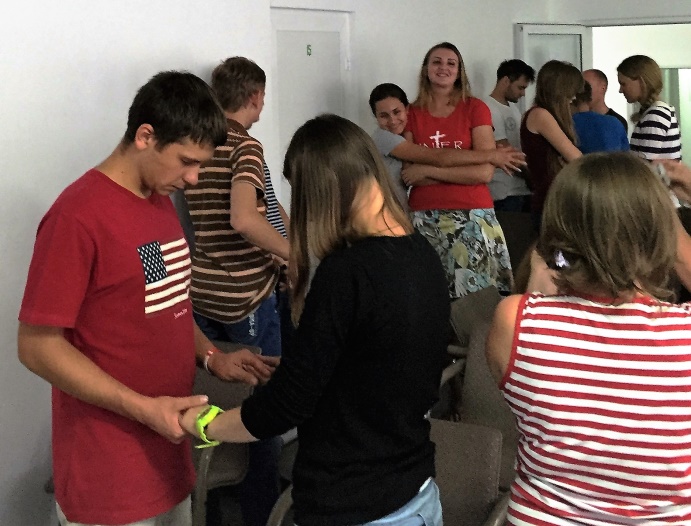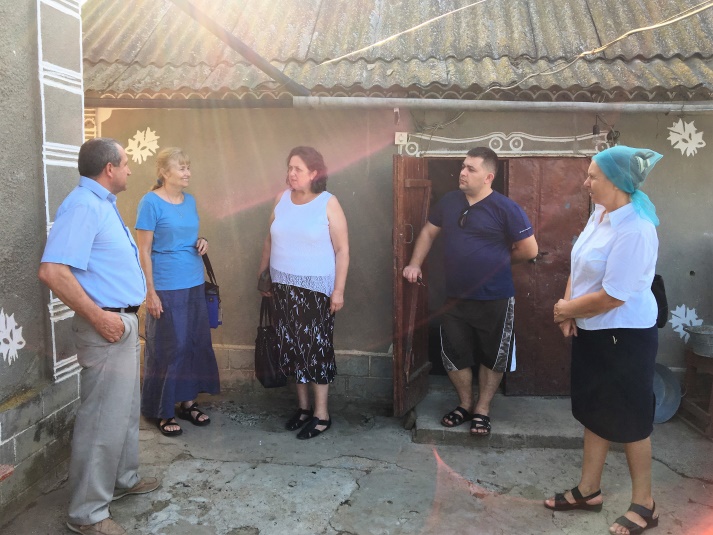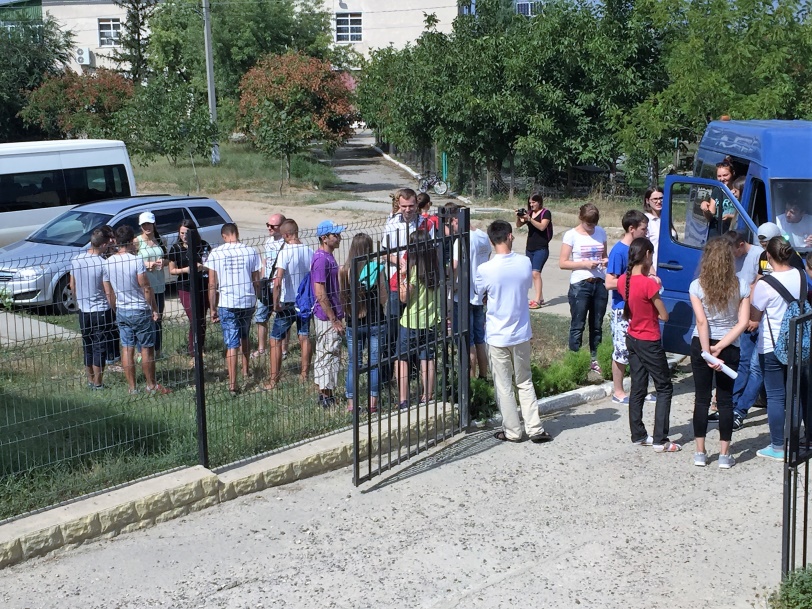 So simple, yet so profound in God's kingdom: Some of you know that years ago Praying Friends was blessed to help Mr. G. get a hip replacement and a few months later another relative Maria needed a hip replacement. Neither could walk and both needed funds to pay for hip surgery. The Body of Christ prayed and showed up through you with the needed support. Maria said that the doctors were totally astounded when she came to the clinic with the funds to pay for surgery. They asked where she got the money and she told them,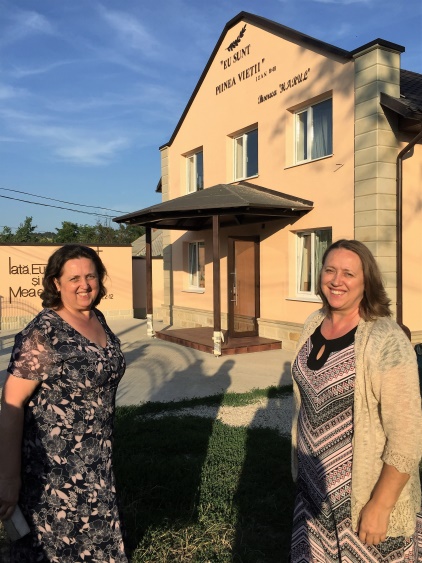 "Christians in America." And they were flabbergasted that Christians would help someone they didn't even know. God gets the glory! This visit we were able to connect with Maria and learned that in her house the only fireplace/stove she has was falling down upon her and her family and she had no funds to fix it. You had given funds to help someone in need and we were able to use this money for materials and her family added to the money to get enough materials and then rebuilt the fireplace themselves. Maria also did not have a place to put a grandbaby who she kept often. As we were talking about this, another person said, "Well we have a crib in our attic." And they gave it to her.
We thank God for His people and how much they love one another.
We also had specials times visiting friends, churches and families we have known for a long time. We stayed with the Silli's and Mr. and Mrs. G. and were so blessed!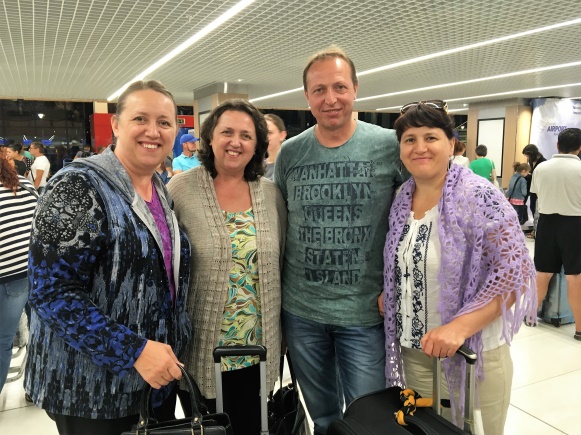 Time to head home
Thank you for being a part of this team!
Give God the Glory!
Tools from both the Moldova and Nicaragua Trips
On both of the trips I shared my testimony and the Way of Salvation. To find these, go to Tools and you will find bookmarks in various languages including Romanian, Russian, and Spanish that you can download. If you use the bookmarks, it helps to go through each statement so the person can talk about the Good News and ask questions. Four people accepted Jesus that we know about on these trips.
***Bookmarks Baked by Bread for All People
Managua, Nicaragua Service Trip September, 2016
Team: Elena, Jodie, Vilma, Kathy and Carl, and Margaret
Also, we are always so blessed to be with Esperanza and Cris (affectionately known as 'the girls'), their families, Kathy and Carl, and Vilma from Honduras in Managua. It was a joy to be with them and to see the new things happening since we were there in 2015.God has led 'the girls' and their families to help those in their neighborhood and start Bible studies and prayer groups for both youth and women.
We saw God working among the youth groups, the mom's group, and their families. They were combining to serve those at the women's conference and at other functions. What joy God gives when His people are unified and what a beautiful sight!
Beloved, I pray that you may prosper in all things and be in health, just as your soul prospers. For I rejoiced greatly when brethren came and testified of the truth that is in you, just as you walk in the truth. I have no greater joy than to hear that my children walk in truth. 3 John 1:2-4
Youth Focus on Psalm 139 and Tie-Dying Shirts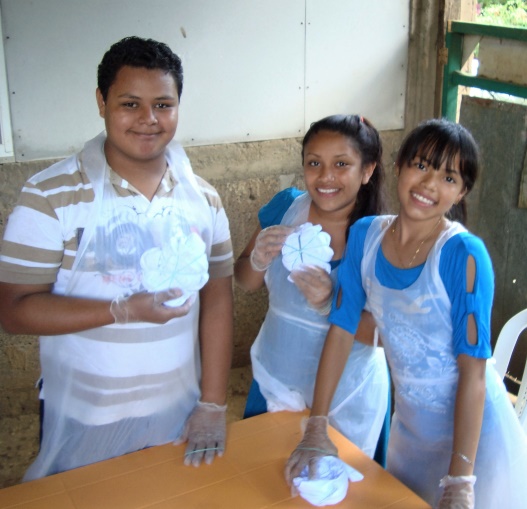 'The girls' lead two youth groups in Bible study and a craft to reinforce the teaching. They asked us to bring the message and craft. And God led us to Psalm 139. The focus is for us to know God makes each person wonderfully and perfectly. They loved hearing this Word. Then the youth and some adul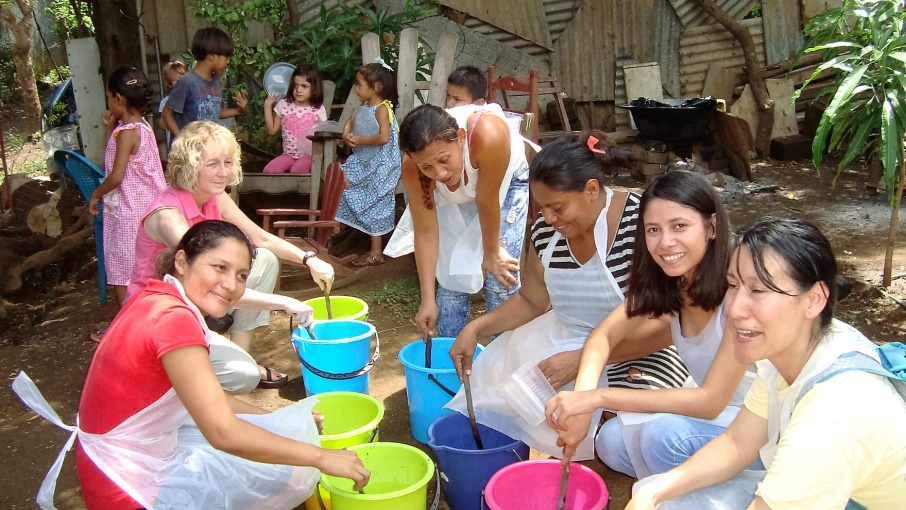 ts tie-dyed shirts, which was really fun and had great results. Each shirt was a unique creation made by one of God's unique creations. The shirts symbolized that God makes each person special and no two are alike on earth. Each person in turn has the opportunity in their lifetime to reveal the Creator! You can see the youth really enjoyed this activity. The shirts show they are very creative!
Beach Day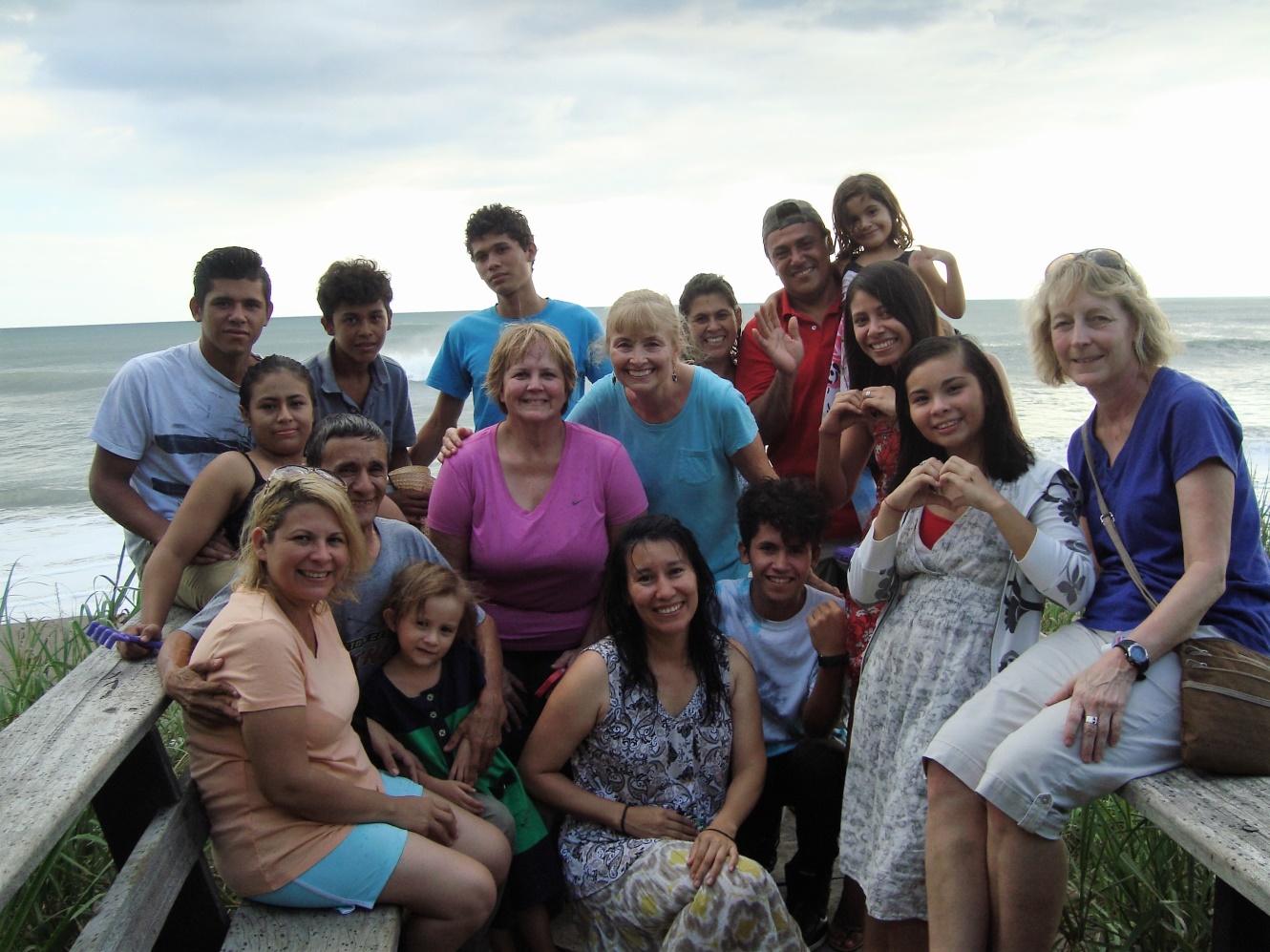 Thank you for providing for our families in Nicaragua to go to the beach like we did in 2015. They need a day to be with their families and hang out and 'feel the love' God has given them in each other.
Clothes and Bags for Moms and Children
One of the advisors in Praying Friends, Cristy, felt led to give money for the clothes for the young mom's – What a blessing! Then Cristina, who is a teacher sponsor for cheerleaders at a school in our area, asked the cheer leaders if they wanted a project to collect clothes for these children. All 19 children now have at least one new outfit! Also, some of you gave clothes for the moms and all of the girls' family members to have clothes too! Another friend gave bags and purses to all of the moms! Go God!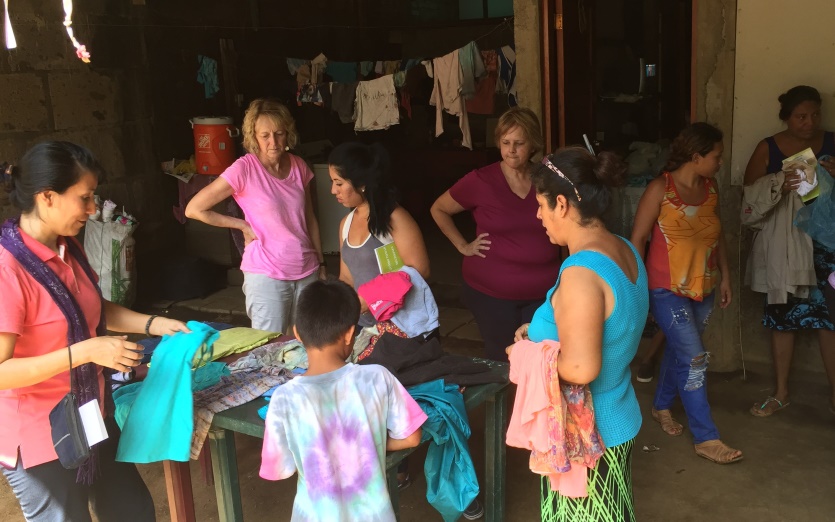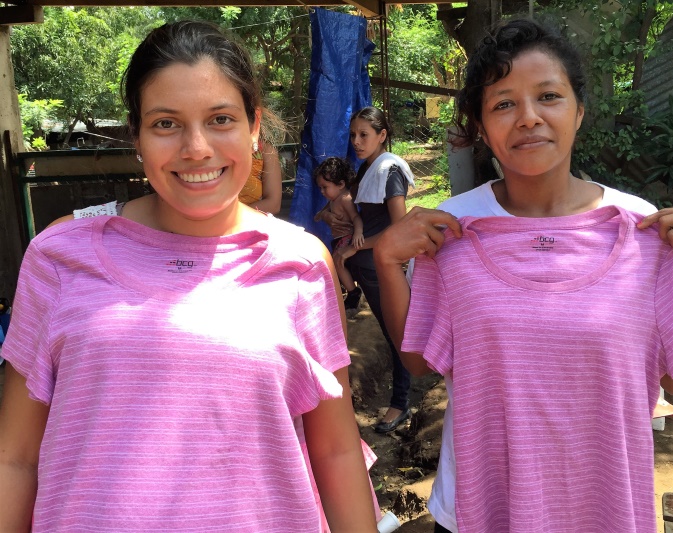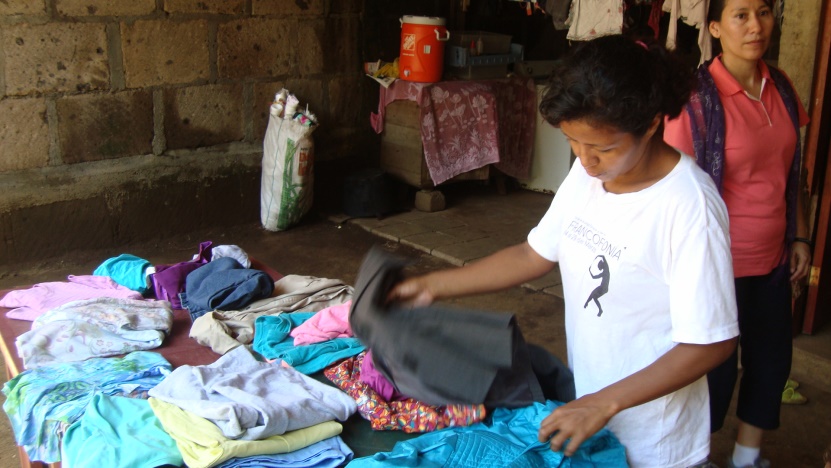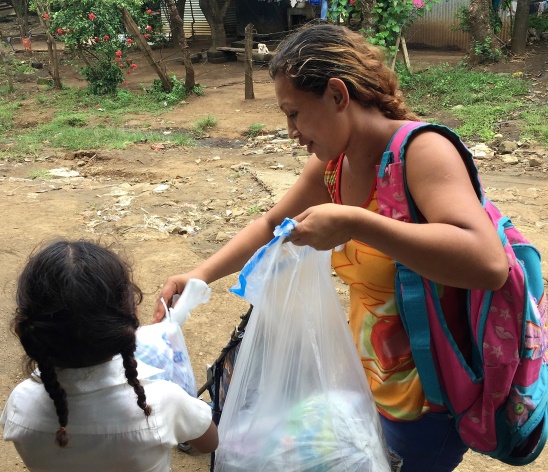 Thanks for sending us with purses, bags and clothes to give to God's humble servants.
We thank God for you and your prayers and appreciate your helping us to go on these trips and bless those we have met. Thank you for praying for us. Every time we were talking with someone God was giving us what to say from His word that would bless Him, them, and us. We thank you for praying for us to know this.